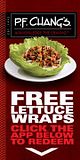 Get your FREE Lettuce Wrap
P.F. Chang's is giving away a FREE order of Lettuce Wraps via facebook today, July 6th. Sign up to get yours!
"PFC Fans, how do FREE Lettuce Wraps sound to you? As a part of our 18-year anniversary celebration in July, we are going to be giving you, our Facebook Fans, FREE Orders of Lettuce Wraps. Check back July 6 to download yours… Tell your friends"