Ships FREE with Super Saver Shipping
I was shocked this month to have
one of these
bad boys show up on my doorstep. I've been dreaming of owning one for years and have even been in the store on several occasions holding the
Artisan Series
in my hot little hands, simply to say to myself "
maybe I can spend my money wiser
"? Hubby was fed up with me not indulging myself, so he went on a mission to order one behind my back and surprise me for my birthday.
BEST GIFT EVER
❤ He had me
upgraded to the Pro series for less than the Artisan Model cost!
!!!
I unwrapped it with the fervor of a child on Christmas morning and poured over every detail in the manual..... including the recipes. Woah - this is one awesome machine! I should mention that I'm an avid
appliance junkie
baker. I keep myself busy experimenting with new delights simply out of boredom (
OK, and I really like to eat
). In the past year, I have literally burned up 2 motors on hand mixers (
not the cheapy ones either
) and the third mixer had a weird mishap this month. While the motor didn't burn up
this time
, the plastic shafts that hold the beaters in place, literally snapped and sent beaters flying, while my daughter mixed a carrot cake. Funny looking back now, but frustrating while in the process of Easter dinner.
Three weeks ago, I began baking my own
bread
and while I discovered it was much easier than I thought
(I had an aversion to working with this unknown, mysterious yeast stuff
), the kneading left me wondering why I even started. My first loaf is pretty though, isn't it?
Bread made in the oven!
So, here I am, in awe over my new toy, when hubby tosses in this:
Sunbeam 2-Pound Programmable Breadmaker
Um, Hello...what kitchen hoarder isn't thinking my husband is a god right now?
I have two of my dream items that work wonderfully and was happy to find the KitchenAid mixer currently has a
FREE rebate form
for the
Ice Cream Maker Attachment
that normally cost $71.95! BONUS SCORE!
Hurry the rebate ends May 30th, 2012.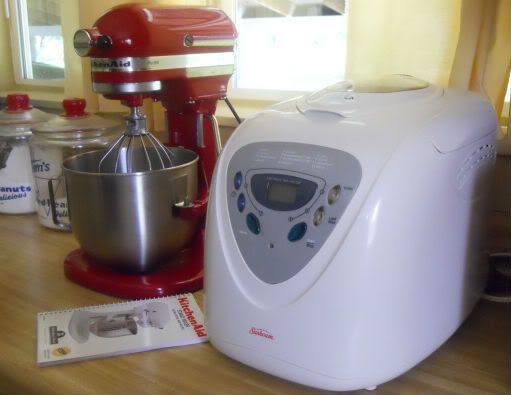 I like to stare in awe at them.
I know some of you are thinking that's still a lot of
dough
-
no pun intended
....but in the long run, not only do I save tons of time making yummy things, I save big money making homemade treats I normally buy all the time. Have you ever smelled fresh bread?
BBQ Pork Pizza with caramelized onions
No more
$3.00 loaves of bread
, $2 a box stale snack cakes, $15 take-out pizza or frozen boxed pretzels. Speaking of - here's my favorite soft pretzel recipe. It's super easy and much better than ones I've had at the mall.





Soft Pretzels
1 1/2 cups warm water
2 tablespoons light brown sugar
1 package active dry yeast
3 ounces unsalted butter, melted
2 1/2 teaspoons sea salt
4 1/2 to 5 cups all-purpose flour
Oil, to grease bowl
3 quarts water
2/3 cups baking soda
1 whole egg, beaten with 1 tablespoon cold water
sea salt
Combine the water, sugar, yeast, and butter in your stand mixer bowl and mix with the dough hook until combined. Let it sit for 5 minutes.
Add the salt and flour to the mixture (I like to toss in Italian seasoning, garlic powder & onion powder for flavor). Mix on low until combined.
Increase speed to medium and knead until the dough is smooth and pulls away from the bowl. Add more flour, 1 tablespoon at a time, if dough seems too wet.
Coat a large bowl with oil. Remove dough from the mixing bowl and roll into a ball with your hands. Place it in the oil bowl and roll to coat. Cover with a towel and allow to rise for an hour or until dough has doubled.
Preheat oven to 425 degrees F and start to boil the water in a big pot.
Remove dough from the bowl and place on a flat surface, no flour should be needed. Divide the dough into 8 pieces and roll each piece into a long rope.
Now you begin shaping: Take the right side and cross over to the left. Cross right to left again (I find this gives extra stability) and flip the two ends up. I like to press a little where the dough meets.
When your water is boiling, S-L-O-W-L-Y add the baking soda a little at a time, it will fizz up.
Drop pretzels, one at a time, in the water solution for 30 seconds. Make sure to splash the tops! Remove each with a slotted spatula, so the water can drain and place up to 6 on a baking sheet, they won't get much bigger.
Mix one egg with 1 tablespoon cold water and brush this wash on the top of each pretzel. Sprinkle with salt.
Bake for 10 to 15 minutes or until golden brown. Serve warm or freeze for easy snacks later.